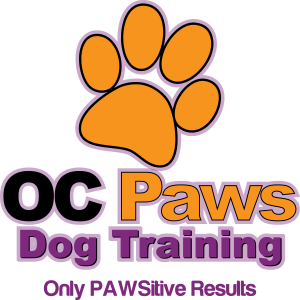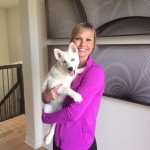 Stacy Shubunka               
Stacy@ocpawsdogtraining.com
Stacy is the owner of OC Paws Dog Training. She has been a professional animal trainer for over 12 years. She has an extensive background in the field of animal behavior. In addition to hands on experience, she has been educated in the field of animal care and training. Degrees and Certifications:
Associate of Science in Animal Training and Management
Bachelor of Science in Psychology (behavior)
Certificates in: Animal Behavior Management and Wildlife Education
Certified Professional Dog Trainer – Knowledge Assessed (CPDT-KA)
Stacy began her animal training career by attending the prestigious Moorpark College's Exotic Animal Training and Management program. Upon completion, she began a career working with marine mammals at SeaWorld San Diego and Sea Life Park Hawaii. Stacy trained dolphins, sea lions, seals, and penguins. She performed shows, interactions, education presentations and even trained medical behaviors. While working at these facilities she mastered the art of animal behavior and training. She also pursued a degree in Psychology from California Coast University to further her understanding of behavior.
After working with marine mammals for 6 years, she focused on her passion of working with dogs. She began working for Birds and Animals Unlimited, one of the largest animal production companies. Here she trained dogs, cats, birds, pigs, monkeys, rats, and raccoons for the Universal Studios Animal Actors show and for film and television.
After having so much success working with such a wide variety of animals, Stacy decided that she wanted to help other dog owners learn to train their pets.
"There is no doubt in my mind that I LOVE working with Dogs! They are so much fun to work with and the results are so rewarding. It is so great that I can help other people learn to love their dog even more. OC Paws will deliver the results the customer wants. A well-trained dog is a happy dog, and a happy dog equals a happy owner!"
Some photos of Stacy enjoying being an animal trainer:
              
Susan Hartman, ABC certified trainer
Susan@ocpawsdogtraining.com
Susan Hartman is a certified dog trainer with a Bachelor of Arts in Psychology and an honors graduate of the ABC Animal Behavior College. Presently, Susan is working as a private in home dog trainer and also maintains a leadership role as a senior volunteer for LAAS at the WLA Shelter where she concentrates primarily on low-stress behavior modification of resident pit bulls and other power breeds.  In addition Susan assists with shelter volunteer training, dog handling and post-adoption support for the public. The scope of her work includes barrier aggression, barking, leash work and reactivity, obedience, muzzle work, dog-to dog introductions and playgroup management.
As a private trainer she has worked with puppies, adolescents and senior dogs of all breeds and sizes, many of which were previously homed in shelters, fosters or rescues.  Susan employs a positive-only philosophy and is inspired by the work of Patricia McConnell, Ian Dunbar and Jean Donaldson because of their gentle and science based approach to training. Susan is very excited to be joining the team of OC Paws Dog Training!
Andrew Lovelady, Certified Trainer
Andrew@ocpawsdogtraining.com
Andrew has had dogs his whole life and never thought he would be able to make such a rewarding career out of training them.  Training dogs sort of fell in Andrew's lap because it was something he never saw as being possible, but before he knew it he was working at a company that certified him to teach their puppy and dog obedience classes, along with their Canine Good Citizen classes.  During his time with this company Andrew was able to work with all types of dog breeds,  from puppies to adult and senior dogs.  This is where Andrew first learned and applied positive reinforcement training methods for basic obedience, and behaviors needed to be obtained for dogs to become a Canine Good Citizen.  By the end of his time with this company, Andrew had changed the lives of countless Pet Parents with their dogs, and certified many dogs as a Canine Good Citizen Evaluator.  As time went on Andrew's thirst for knowledge grew with his love for training.  He eventually worked with a training facility where he encountered more problematic behaviors.  This is where he learned how to identify and address behaviors on a deeper level.  Andrew was able to understand why dogs behaved certain ways, and once he learned this, the possibilities were endless for his training.  Andrew  continues to strengthen the bond between Pet Parents and their dogs through patience, understanding, proper communication and positive reinforcement.
Amanda J. McKitterick, KPA-CTP
Amanda@ocpawsdogtraining.com
Animals have always been Amanda's true love and passion in life. Not realizing this passion could become a career, Amanda finished highschool and joined the US Navy. The military taught her computer skills which helped her make a fine living, but it never made her truly happy.
In 2010, she rediscovered her love for dog training. Amanda decided to change careers and become a trainer full time. To start her formal dog training education, Amanda enrolled at the Animal Behavior College. She was taught several learning theories, basic behaviors, and more. She began volunteering at a local shelter to start putting her new knowledge to the test. Through the Animal Behavior College, Amanda met a seasoned local trainer and began to intern under her for the next few of years. It was during that internship where Amanda was introduced to the science of reward marker training techniques and theories. Intrigued by what she was learning, she continued to attend classes and seminars while working with local clients and shelter dogs. In early 2015, Amanda enrolled in the Karen Pryor Academy for Dog Training Professionals to become certified in the KPA techniques. She began with their Fundamentals program and continued to the Dog Training Professional program. Amanda graduated with distinction in December of 2015.
Amanda has had the pleasure of helping several troubled shelter dogs become adoptable. This was done through training those dogs along with teaching force-free techniques to the volunteers at the shelters. In addition to all that, Amanda has been educated to help families regarding dog safety and bite prevention. She also specializes in assisting new
parents to better prepare their pets for the arrival of their new babies. She loves working closely with her clients and their dogs to help them with their unique situations. Amanda's goal is to teach both to live long, happily lives together.
"…successful animal training can be rooted in cooperative partnerships,
shared joy, and genuine love."
– Kathy Sdao, Plenty in Life is Free